It's proving to be an exciting time for lovers of the silver screen.
2017 has seen blockbuster film after blockbuster film… and diverse voices are FINALLY being heard. It wasn't too long ago that the twitterverse blew up with #OscarsSoWhite, and I'm happy to say marginalized communities have been winning small victories in the battle for fair media portrayals. We still have a long way to go… but for now I choose to focus on the positive.
photo credit: thenewscasters.com
THE SHAPE OF WATER
I went to see this charming film the day after Christmas, without knowing a single thing about it. It's rare that I see a movie without watching the trailer first, but for this one I'm glad I didn't.
As it happens, the movie (directed by Guillermo del Toro) takes place in America at the height of the Cold War and race for technological supremacy between the United States and Russia… but there's a twist.
The story follows the journey of a non-verbal Latina named Elisa Esposito (Sally Hawkins). Esposito works in a government agency developing what is supposed to be the country's greatest weapon in the war against Russia… but again, there is a twist.
Adding the perspectives of Espositio's homosexual neighbor (Richard Jenkins) and black co-worker (Octavia Spencer), the movie was polished with the painfully accurate experiences many from marginalized communities faced during a time fraught with stifling injustice and despicable societal inequities.
The performances of the trio were exquisite. They played extremely well off of one another in roles that were not "easy" to embody (is any role really easy to portray?).
"The Shape of Water" opened ( and ended) in one of the most haunting, ethereal ways imaginable. I don't believe in spoilers, but I will say that I encourage everyone to see it. Were it up to me, this would be MANDATORY viewing for so many reasons.
Rating: 4.5 / 5
photo credit: The New York Times
LADY BIRD
"Lady Bird" (written and directed by Greta Gerwig) was the scrappy coming of age movie I expected it to be… and so much more.
The story played with some interesting themes: mother/daughter relationships, gratitude, truthfulness, and the always interesting dynamic between the person one is versus the mask they show the rest of the world.
While I haven't always been a huge fan of watching movies in public spaces (more on that later), this particular movie was a blast to see in theaters. Everyone reacted in similar fashion to various show-stopping points in the movie… which is not common in so diverse a city as New York.
Gerwig knocked it out of the ballpark with "Lady Bird." Coming of age stories are always hit or miss (pardon the baseball puns… completely unintentional!) simply because everyone grows up in a different way.
However, when you can capture enough voices and perspectives to have nearly everyone in your audience reflecting on an relating to misguided stories of their youth… you know you have a winner.
Rating: 4.8 / 5
photo credit: Rolling Stone
I, TONYA
I will admit… I did NOT know much about Tonya Harding before going out to see this docu-style feature. I knew the basic story of how she and her ex-husband allegedly sabaotaged her fellow figure skaters career by hiring a goon to bust her kneecap during  practice.
Now, this movie is said to have shed a true light on what really happened on that fateful day and the circumstances leading up to it. It's all highly debatable, and we, as the public may never know the true story. There is no proof.
BUT.
This movie did teach me a lot about the Tonya's journey as a figure skater. Through domestic abuse, dealing with elitism, domestic abuse (again) and abandonment issues, it's clear that Ms. Harding did not have an easy life.
*** SPOILER ALERT ***
Splicing the real interviews of Tonya, her ex-husband and his friend into the end was a nice touch.
Rating: 4.5 / 5
photo credit: susangranger.com
THE POST
To be honest,  the only reason I went to see "The Post" was for the performances of acting legends Meryl Streep and Tom Hanks. 2016 and 2017 have been such politcally charged years, that I wanted no parts in watching historical drama about he follies of the Nixon administration. I go to the movies to ESCAPE reality, after all… and dare I say, history has a funny way of repeating itself.
But it was a great film, which isn't unusual of a Stephen Spielberg picture. Considering the star power behind The Post, its greatness was practically demanded.  Again, I don't believe in spoilers… so I won't delve too much into it. However, if you don't know much about the infamous Pentagon Papers during Nixon's presidency, this movie is a great place to start.
Rating: 4.75 / 5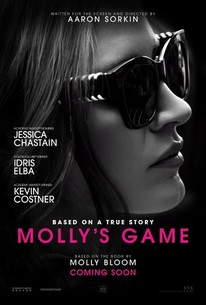 photo credit: rottentomatoes.com
MOLLY'S GAME
Aaron Sorkin wrote it. Need I say more?
Molly's Game is the brilliant re-telling of a true story. Molly Bloom was an olympic-class skier until the day a nasty tumble on the slopes ended her career.
Facing unresolved issues from her childhood and a need to escape the suffocating  mindset of perfectionism, Ms. Bloom leaves her home town for Los Angeles and ends up working for a rather shady character running an underground poker game.
She takes control of the game, loses it… and loses herself.
The movie takes place in both the past and present… where Ms. Bloom is helped out by her intuitive and charismatic lawyer (Idris Elba). A lot of themes come into play, and Molly's voice shines brilliantly throughout.
Did I mention Aaron Sorkin wrote it?
Rating: 5 / 5