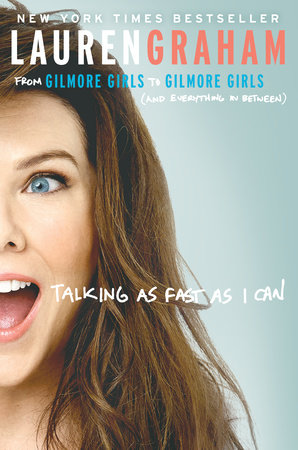 photo credit: Penguin Random House
TALKING AS FAST AS I CAN (audiobook)
Listening to Lauren Graham recount the exciting moments of her life in this audiobook is like inviting your coolest friend over for brunch. Not dinner… brunch. She's just that hip.
Graham comes across as witty, trendy, and most importantly… true to herself. After listening to her story, it's not surprising that she has had staying power in an industry with very little scruples about tossing aside those who no longer fit the ever-changing mold of what a "star" looks like.
To be honest, before listening to Talking As Fast As I Can (from Gilmore Girls to Gilmore Girls and Everything in Between), I did not know much about her other than that she had played the fast-talking Lorelai on Gilmore Girls and was the brilliant author of Someday, Someday Maybe. 
I came to the series pretty late. I was a senior in college when Gilmore Girls appeared in Netflix for the first time and was pretty amused when the internet freaked out over it. My roommate was a die-hard fan of the entire series and knew almost everything there was to know about its actors and writers. She was the one who lent me Graham's first book Someday, Someday Maybe while playfully demanding I start watching the show.
I fell in love instantly. The writing of Amy Sherman-Palladino was clever and lively; it was fast-moving and had a rare rhythm that absolutely captivated me.
BUT.
That was all I knew. I did had no idea what she had done before and did not realize she had worked between the ending of Gilmore Girls  and its highly-anticipated netflix reboot Gilmore Girls: A Year in the Life. 
Halfway through listening to her speak I found myself going to the netflix app on my phone and adding Parenthood  to my queue. It sounded so good… and if Lauren Graham was in it, I KNEW I would be interested.
Talking As Fast As I Can details Graham's life before acting, the struggle of the early years before arriving, dating, overcoming obstacles as a writer, returning to Gilmore Girls, and her charming "Old Lady Jackson" personality.
NOTE: The "Kitchen Timer" and "Old Lady Jackson" chapters were probably my two favorites of the entire book.
And did I mention she does it in under 5 hours?
True to her word, Graham really does talk fast… or rather, her words have the same famous wit and quick-moving rhythm she conveys as Lorelai Gilmore.
If you are a fan of Gilmore Girls (or a fan of any of Graham's work), this book should be at the top of your #tbr list. It can be listened to in a single afternoon — if you are so inclined– or may spice up an otherwise dull night in.
Rating: 5/5